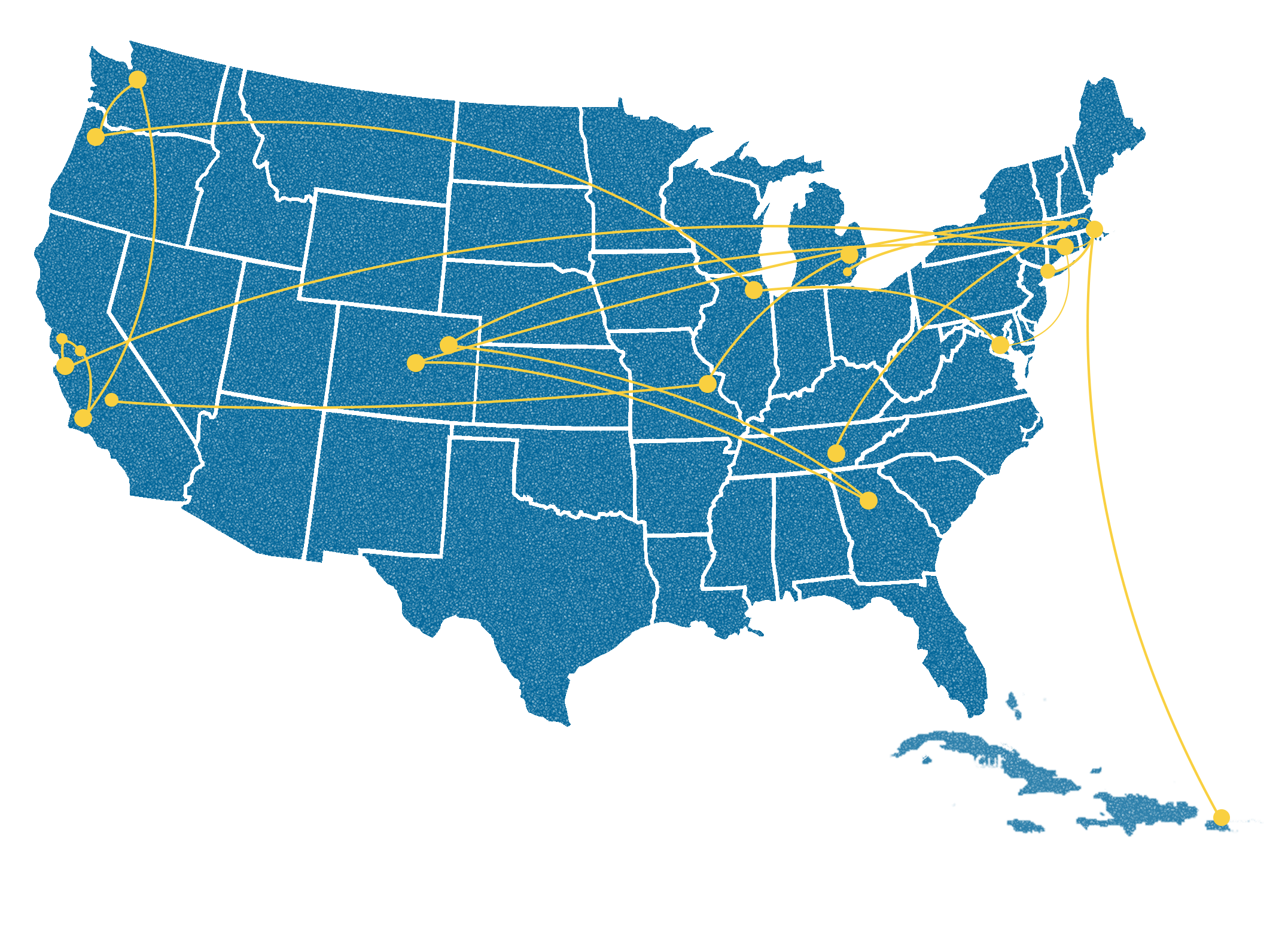 20 May

A Look Back at 2016
Dear Compañerx:
Last year, AgitArte | Papel Machete traveled throughout the continental United States and Puerto Rico, collaborating and building with artists, organizers, cultural workers, and activists in San Juan and Santurce, Boston, Atlanta, Oakland, and New York, to name a few. As co-creators of the book When We Fight, We Win! Twenty-First Century Movements and the Activists That Are Transforming Our World, our creative network has expanded, along with our commitment to grassroots movement building.
Founded in 1997, AgitArte's mission is to create projects and practices of cultural solidarity with workers and marginalized communities in grassroots struggles to protest injustice and propose alternatives that, in turn, generate possibilities for fundamental transformations in our world. We work in communities threatened by under-development, displacement and gentrification, using the arts and cultural work to educate and organize for social and economic justice.
Looking ahead to this year and continuing the success of When We Fight, We Win!, now in its 4th printing and recently featured in this list of 7 books to help prepare for Trump's presidency, we are collaborating with People's Collective Arts artist, Rachel Schragis to develop a scroll project on colonization and Puerto Rico. With our collaborators from SONG (Southerners On New Ground), we will continue art projects we started last year, along with developing a broader cultural strategy for the year. AgitArte | Papel Machete artist Dey Hernández and Brooklyn Quilt Girl, Sylvia Hernández are developing a quilt project based on the Movement for Black Lives Platform.
The Papel Machete Collective will present two new theater pieces: a Cantastoria and a tabletop puppetry performance. At Casa-Taller, our space in Puerto Rico led by Sugeily Rodriguez, resident artist Lío Villahermosa will offer two sessions of bomba classes, and Garden Coordinator Pluma Barbara Caribe will offer several workshops that engage community members with the Casa-Taller garden. Finally, in May, AgitArte will celebrate 20 years of grassroots cultural work. Stay tuned for details for our anniversary celebration! For years, our frontline communities have been struggling politically against the terrible oppression which has resulted in these challenging times. As we enter our 20th year, we are grateful for our collaborators and supporters, and energized to continue organizing and agitating with art for our liberation.
Thank you for your support in 2016 and we look forward to 2017!
AgitArte Crew
Jorge Díaz Ortiz | Dey Hernández | Sugeily Rodriguez | Tina Orlandini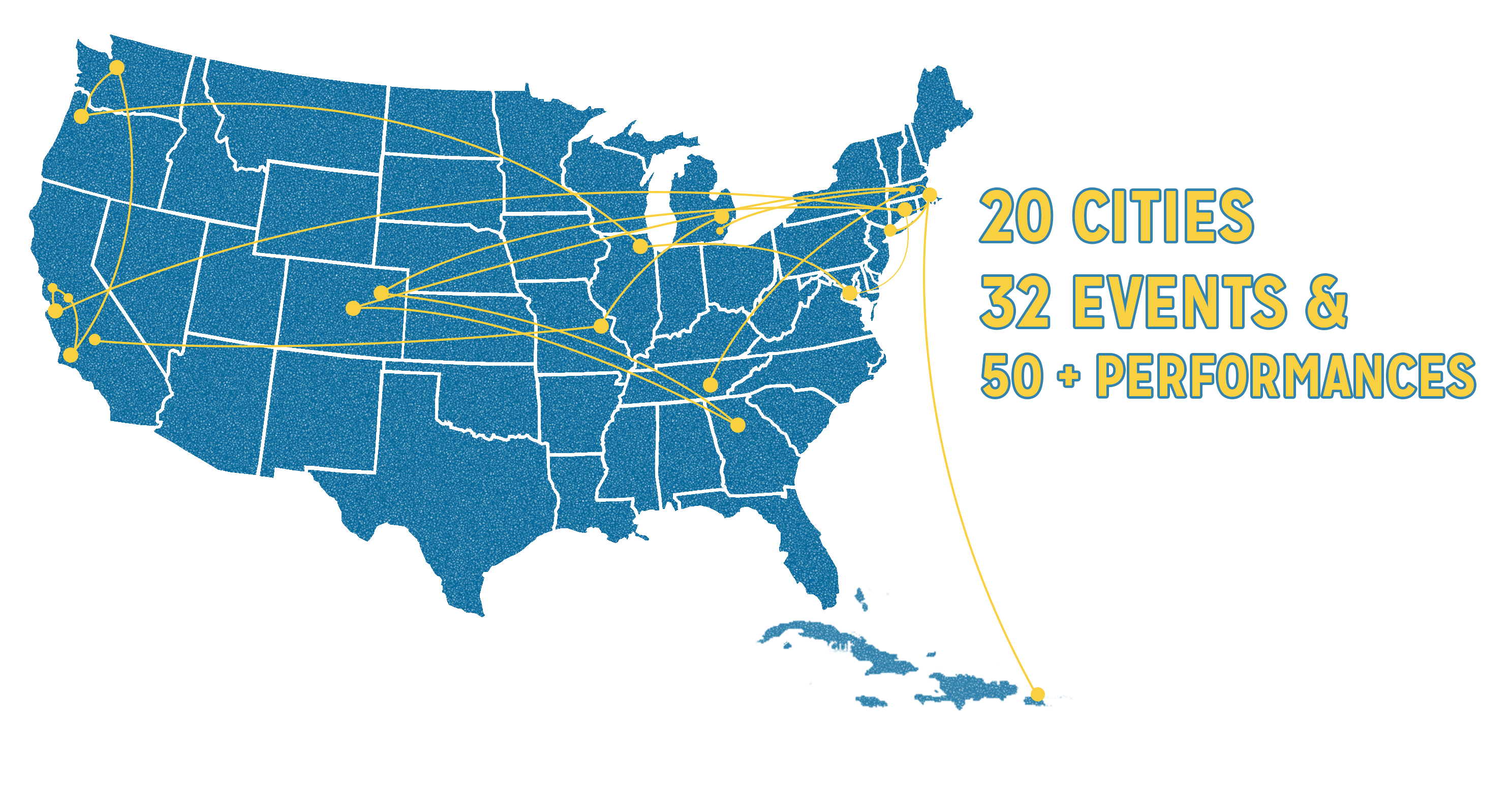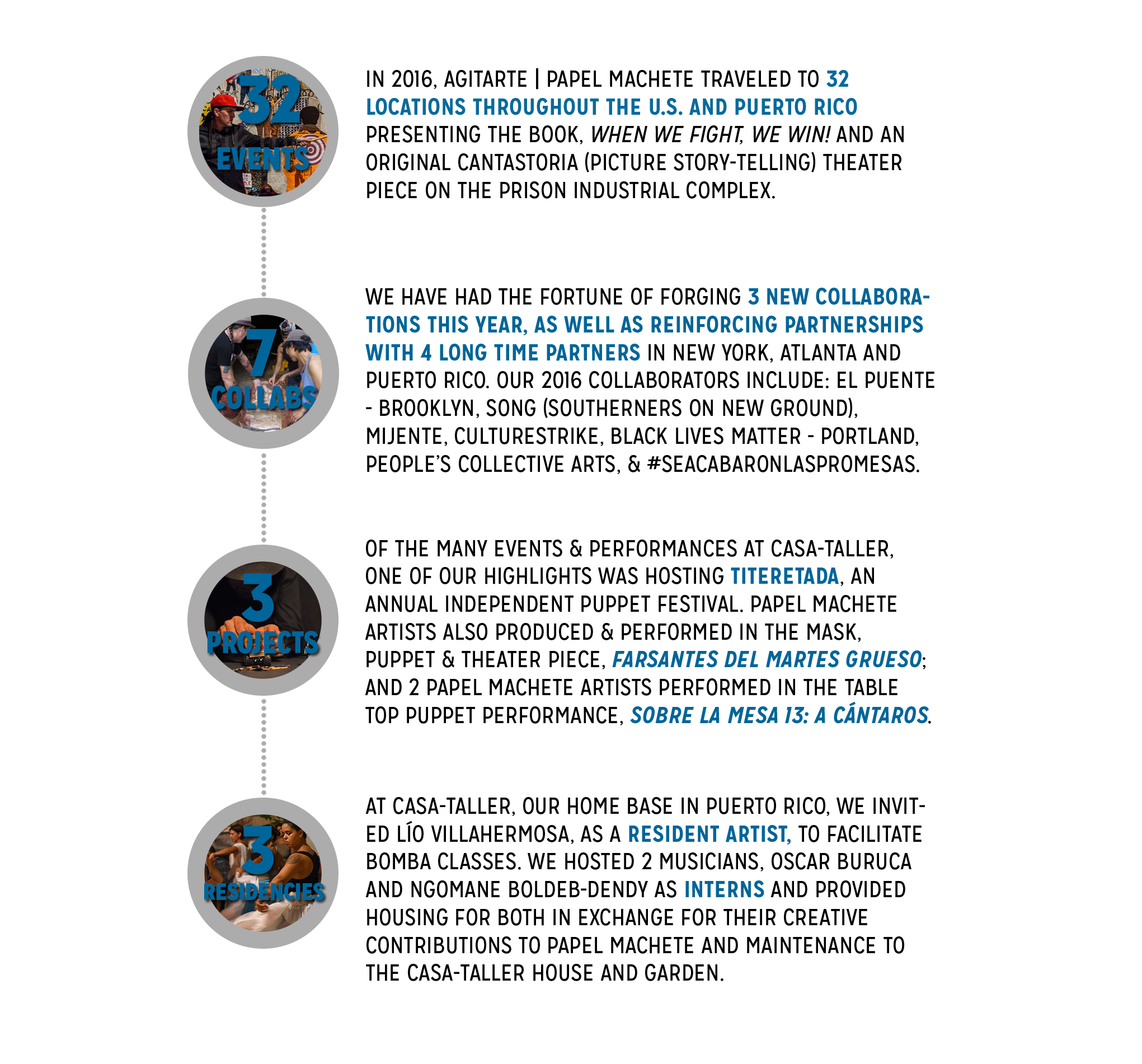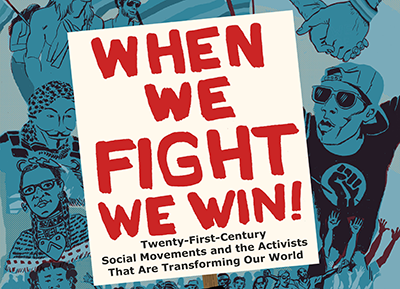 WHEN WE FIGHT, WE WIN! BOOK TOUR
Since January of 2016, AgitArte has traveled to over 20 cities in the U.S. and Puerto Rico during the book tour of 
When We Fight, We Win!
 while also presenting our traveling Cantastoria (picture story-telling) theatre piece 
"If All Lives Matter 'Cause We're All Created Equal, Why Are Some Lives More Equal Than Others?"
 – a political and artistic commentary on the Prison Industrial Complex. The piece includes a handmade quilt created by Sylvia Hernandez and designed by Dey Hernández. Script by Jorge Díaz Ortiz.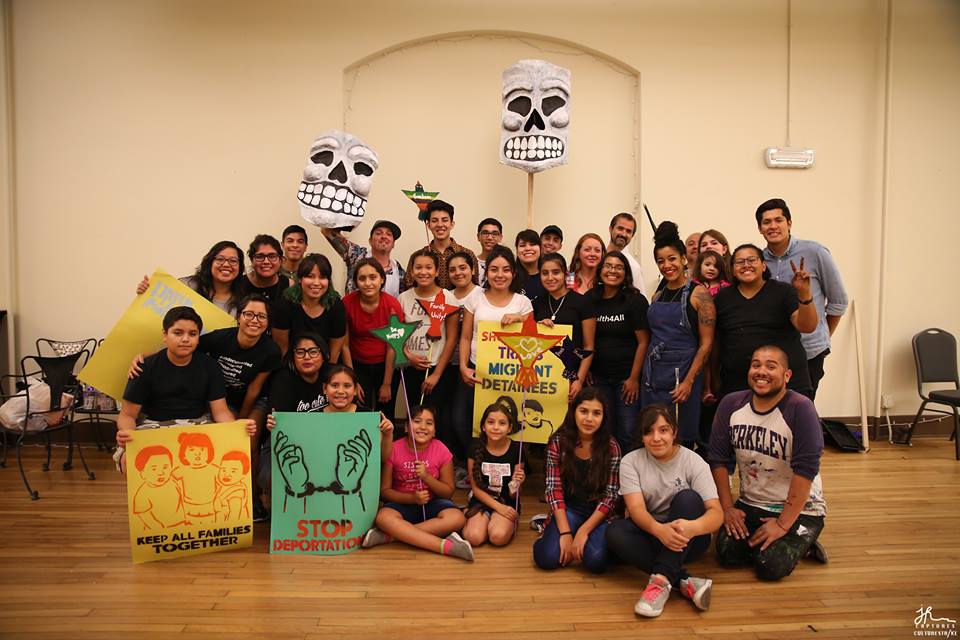 #SHUTDOWNADELANTO WITH CULTURESTRIKE
In collaboration with the 
Inland Coalition for Immigrant Justice and Community Initiatives for Visiting Immigrants in Confinement (CIVIC)
, and
CultureStrike
, AgitArte | Papel Machete participated in a culture-build and week of action with community members of California's Inland Empire to bring attention to the nation's largest private immigrant detention center. We provided expertise and training in mask-making and puppet building, along with the creation of other performing objects.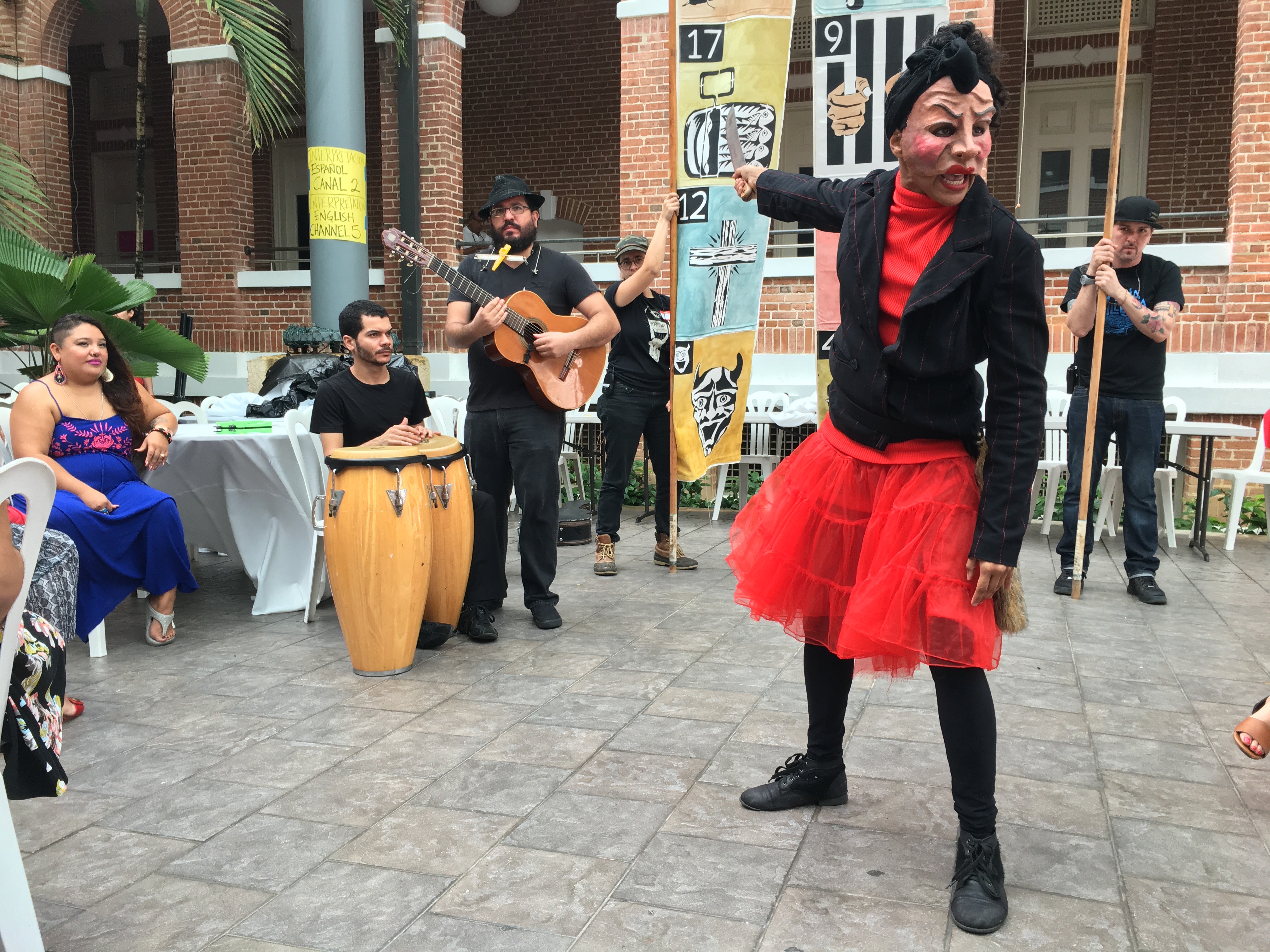 MIJENTE LÁNZATE 2016
AgitArte hosted and produced 
Mijente's
 second convening since its launch in December 2015. Mijente is a pro-woman, pro-queer, pro-poor, pro-Black, pro-indigenous, pro-climate latinx movement organization in the U.S. We curated cultural programming and Papel Machete performed 2 shows in this weekend-long gathering which brought together Latinx identified change-makers who are building an inclusive political home for our people.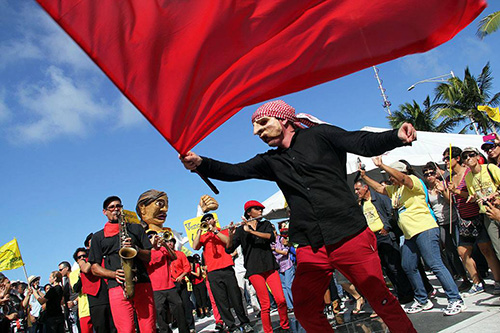 Papel Machete
Papel Pachete, a project of AgitArte, is a radical workers' theater collective based in Puerto Rico. Our performances employ puppets, masks, and music to denounce exploitation, build solidarity, for the working class. Among the many actions, performances and events in 2016, Papel Machete marched in the LGBTQ Pride parade in Puerto Rico, and celebrated our 10th anniversary in May with an original puppet and mask play "Farsantes del Martes Grueso."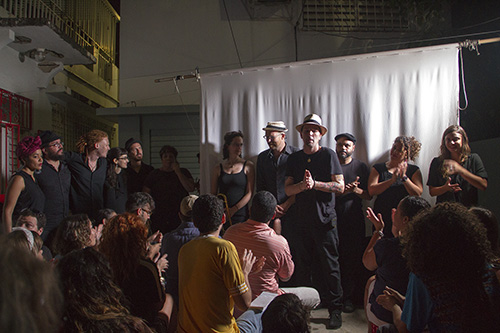 Casa Taller Cangrejera
Casa Taller (House Workshop) is a workshop space in Santurce, PR run by permanent-resident artists, members of the collective group Papel Machete: Jorge Díaz and Sugeily Rodríguez. In 2016, Casa-Taller hosted 3 resident artists and interns who contributed creatively to the work of Papel Machete and AgitArte, and supported the maintenance work needed to the house and garden of Casa-Taller. Garden Coordinator, Pluma Barbara organized workshops in the Casa-Taller garden, including a collaboration with Movimiento Agroecológico to present a forum and workshop on urban gardening and a critical history of Puerto Rico's alimentary system.