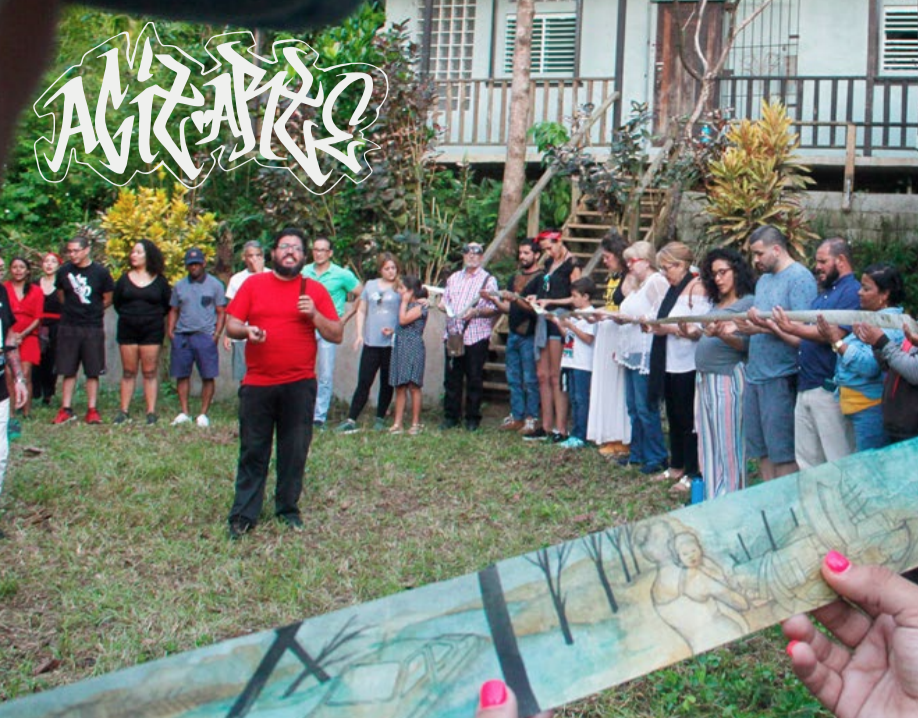 03 Jun

AGITARTE 2018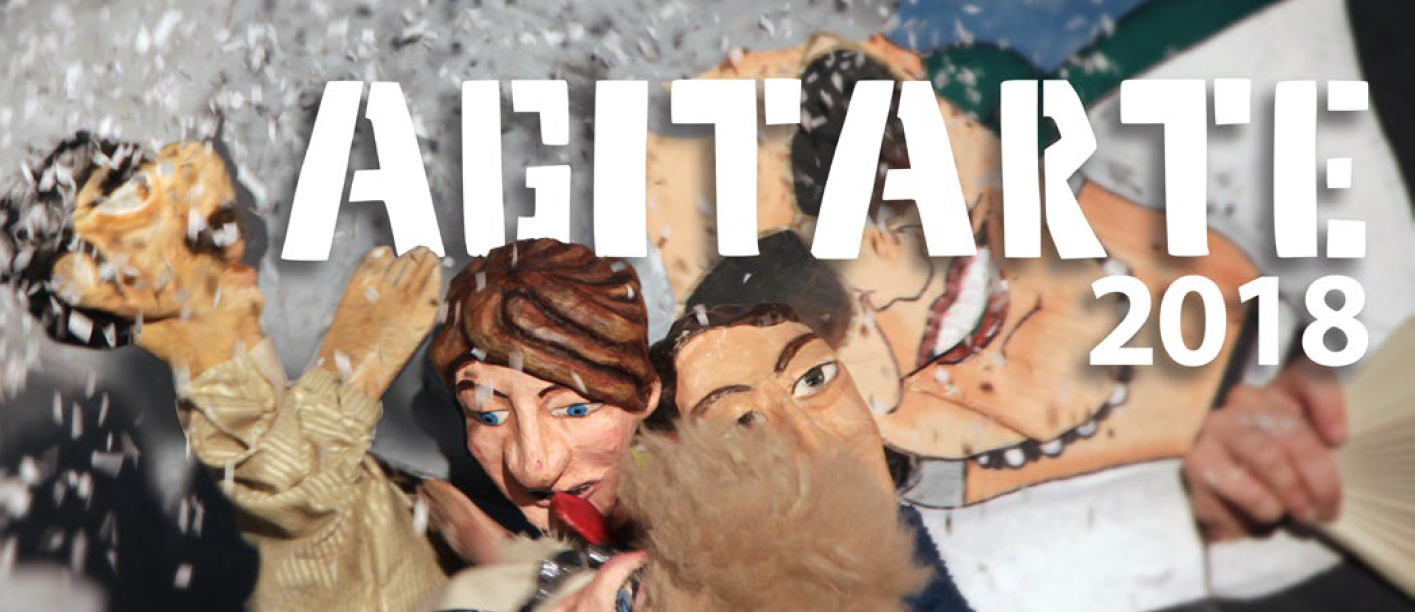 Saludos,
2018 was an incredible year. A continuation of the unprecedented cultural solidarity work built after Hurricane María. Our relationships in community allowed us to scale up our networking and distribution of goods and services, and enabled efforts of providing food and basic necessities to over 13 communities across our islands. It was thanks to your incredible solidarity, that we exceeded our goals and were instrumental in these post hurricane efforts for survival.
We have continued to build tirelessly, networks and projects in communities. These range from service oriented projects and cultural initiatives, to popular education and actions against the neoliberal practices of modern colonialism and disaster capitalism in Puerto Rico. This work resulted in the formation of La Red de Apoyo Mutuo de Puerto Rico (RAMPR), a network of community based mutual aid projects throughout Puerto Rico. After the hurricane you continued to support our work through our end of year campaign, our swag shop, and by joining our Amigxs de AgitArte Recurring Donor Program. These are all crucial to sustaining the critical work we do.
In 2019, we are developing a cultural organizing campaign in defense of public education, supporting artistic projects which relate to the current political conditions in Puerto Rico, and continue to build critical spaces for movement organizations and projects grounded in anti-colonial intersectional working class values and practices.
We are also working on the ongoing development and design of our publications, with the printing of a graphic novel of the Papel Machete Toy Theater play, El Barrio del Mangó Bajito. The End the Debt! Decolonize! Liberate Puerto Rico! Scroll, an AgitArte collaboration with artists, Rachel Schragis, Estefanía Rivera Cortés, Emily Simons and Crystal Clarity, has enjoyed great success in dozens of presentations in Puerto Rico and the U.S. We are currently making multiple copies of it and developing educational materials, so we can move from a very emotional piece, to a popular education and agitation tool for liberation.
2019 is also the year to strengthen the relationships we've built over the years by facilitating trainings and performances in communities. Our collaboration with Southerners on New Ground (SONG) for the last 3 years has ignited the minds of our Southern LGBTQ fam, who value popular education and cultural work, and how it opens up possibilities for, as SONG describes, "queer liberation in our lifetime."
For many years, our people have been working resolutely to build AgitArte, by dedicating countless hours and passion to our mission. It is impossible to compensate our staff and volunteers for the intense labor of making this work a possibility. What we can do is continue to develop a vital organization, and provide opportunities for growth and creativity, while on the path to generating possibilities for our survival and collective liberation.
¡Pa'lante hasta la victoria, porque la lucha continúa!

José Jorge Díaz Ortiz
Executive & Artistic Director
AgitArte
Saludos,
2018 fue un año increíble. Una continuación de la obra de solidaridad cultural sin precedentes construida después del huracán María. Nuestras relaciones en comunidad nos permitieron ampliar nuestra red, la distribución de bienes y servicios, y los esfuerzos para proveer alimentos y necesidades básicas a más de 13 comunidades en nuestras islas. Fue gracias a su increíble solidaridad, que superamos nuestras metas y jugamos un papel decisivo en estos esfuerzos de sobrevivencia luego del huracán.
Hemos continuado construyendo incansablemente redes y proyectos en comunidades. Estos van desde proyectos orientados al servicio e iniciativas culturales, hasta educación popular y acciones contra las prácticas neoliberales del colonialismo moderno y el capitalismo del desastre en Puerto Rico. Este trabajo desembocó en la formación de la Red de Apoyo Mutuo de Puerto Rico (RAMPR), una red de proyectos comunitarios de ayuda mutua en todo Puerto Rico. Después del huracán, ustedes continuaron apoyando nuestro trabajo a través de nuestra campaña de fin de año, nuestra tienda, y uniéndose a nuestro Programa de Donantes Recurrentes de Amigxs de AgitArte. Todos éstos son cruciales para sostener el trabajo crítico que hacemos.
En 2019, estamos desarrollando una campaña de organización cultural en defensa de la educación pública, apoyando proyectos artísticos que se relacionan con las condiciones políticas actuales en Puerto Rico, y continuamos construyendo espacios críticos para organizaciones del movimiento y proyectos basados en valores y prácticas intersectoriales, anticoloniales y de clase obrera.
También estamos trabajando en el desarrollo y diseño continuo de nuestras publicaciones, con la impresión de una novela gráfica de la obra de teatro de títeres de Papel Machete, El Barrio del Mangó Bajito. La pieza ¡Fin a la deuda! ¡Descolonización! ¡Liberación de Puerto Rico!, una colaboración de AgitArte con las artistas Rachel Schragis, Estefanía Rivera Cortés, Emily Simons y Crystal Clarity, ha tenido un gran éxito en decenas de presentaciones en Puerto Rico y los Estados Unidos. Actualmente estamos haciendo varias copias y desarrollando materiales educativos, para poder pasar, de una pieza muy emotiva, a una herramienta de educación popular y agitación para la liberación.
2019 es también el año para fortalecer las relaciones que hemos construido a lo largo de los años, facilitando capacitaciones y presentaciones en comunidades. Nuestra colaboración con Southerners on New Ground (SONG) durante los últimos 3 años ha estimulado las mentes de nuestra familia LGBTQ en el sur de los EE.UU., que valora la educación popular y el trabajo cultural, y cómo éste abre posibilidades para la "liberación queer en nuestro tiempo de vida", en palabras de SONG.
Durante muchos años, nuestra gente ha estado trabajando resueltamente para construir AgitArte, dedicando innumerables horas y pasión a nuestra misión. Es imposible compensar a nuestro personal y voluntarios por la intensa labor de hacer que este trabajo sea una posibilidad. Lo que podemos hacer es continuar desarrollando una organización vital y brindar oportunidades para el crecimiento y la creatividad, mientras estamos en el camino de generar posibilidades para nuestra supervivencia y liberación colectiva.
¡Pa'lante hasta la victoria, porque la lucha continúa!

José Jorge Díaz Ortiz
Director ejecutivo y artístico
AgitArte