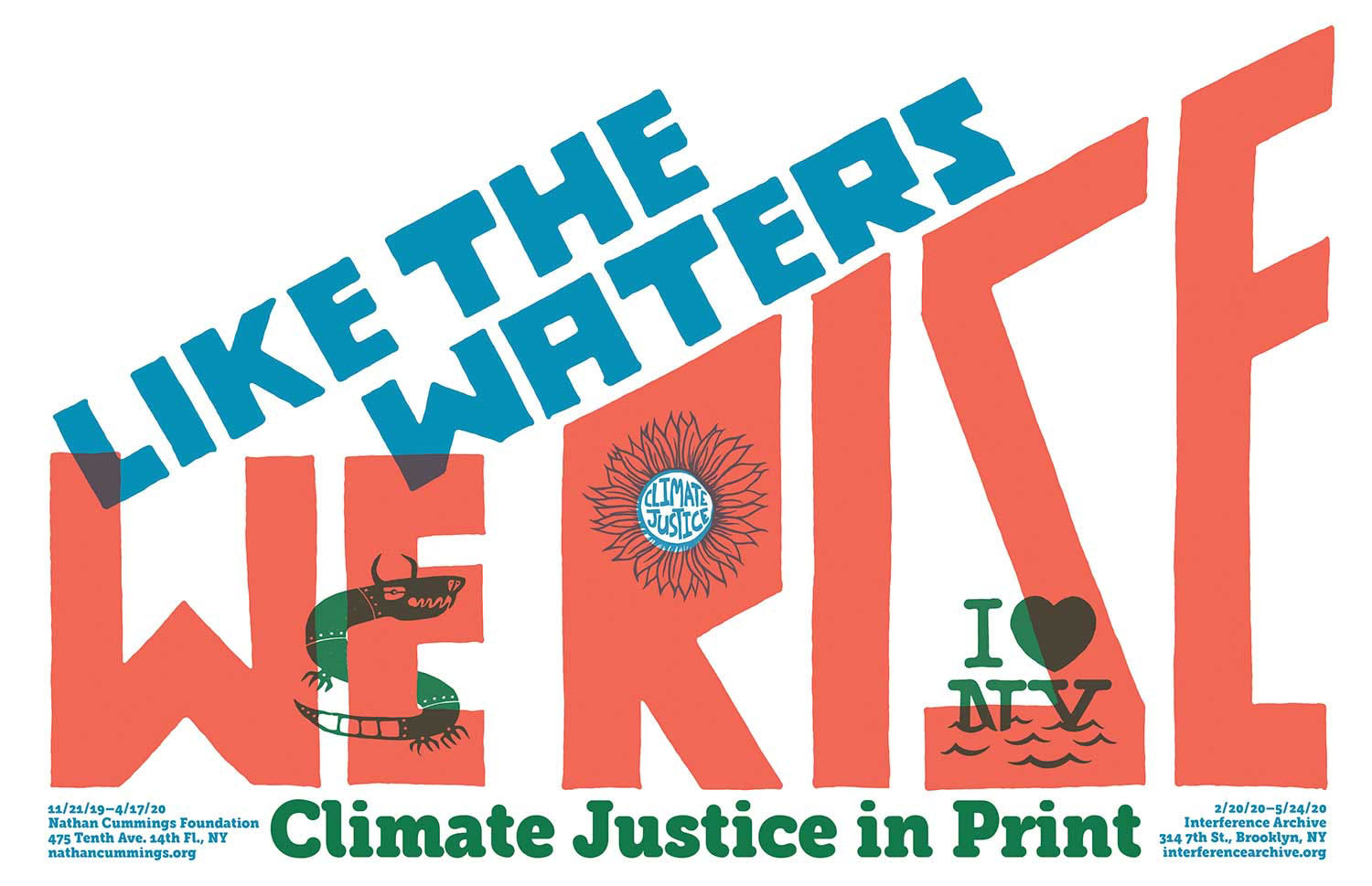 26 Nov

Like the Waters, We Rise

We're participating in Like the Waters, We Rise: Climate Justice in Print, an exhibition celebrating the bold, graphic work of print-based artists in the climate justice movement. Curated by Raquel de Anda, the exhibition will include a selection of print-based work that documents the contemporary Climate Justice Movement (2005-present), which is in truth a movement made up of movements, illuminating the many struggles, flashpoints, and victories by which communities have taken collective action.

The exhibition is co-presented by Nathan Cummings Foundation and Interference Archive and is on display at the offices of Nathan Cummings now through April 17, 2019.

The Interference Archive will host a partnering exhibition opening on February 20th. It will showcase a collection of archival prints representing a historical legacy of movements that have led to our current conversation on Climate Justice.
Participating artists include:
AgitArte, Nikila Badua, Bemba PR, Rae Breaux, Mona Caron, Hannah Chalew, Onaman Collective, Kate DeCiccio, Alec Dunn, Design Action Group, Dignidad Rebelde, Extinction Rebellion, Juan R Fuentes, Gan Golan, Lacy Hale, Aaron Hughes, Jakarundi Graphics, LMNOP, Louisiana Bucket Brigade, Nicolas Lampert, Cesar Maxit, Saiya Miller, Dylan Miner, Sunrise Movement, The Natural History Museum, Peter Pa, Paperhand Puppet Intervention, Sadie Red Wing, David Solnit, Chip Thomas, Rommy Torrico, Jessica Sabogal, Rachel Schragis, Jess X Snow, Meredith Stern, Eleanor Warner, Josiah Werning, Ernesto Yerena, Bec Young.