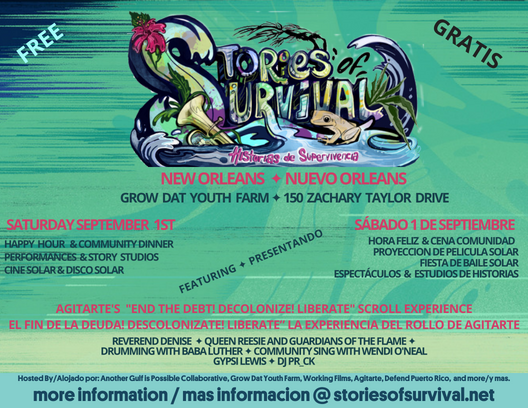 27 Aug

Stories Of Survival in New Orleans

On September 1, 2018, AgitArte will be presenting the End the Debt! Decolonize! Liberate! Scroll in New Orleans as part of the Stories of Survival tour. Click here for the Facebook event.

ABOUT STORIES OF SURVIVAL

While NGOs and government officials convene in California this fall at the Global Climate Action Summit, Stories of Survival will tour across the Gulf South and Puerto Rico bringing residents together to learn, deepen connections, and share stories about community-centered solutions and strategies for survival in the face of climate change. Coinciding with remembrances of catastrophic hurricanes in each of these places, the tour will include solar-powered "Cine Solar" film screenings, community storytelling, collective visioning, skills-training, and unique artistic and cultural offerings.