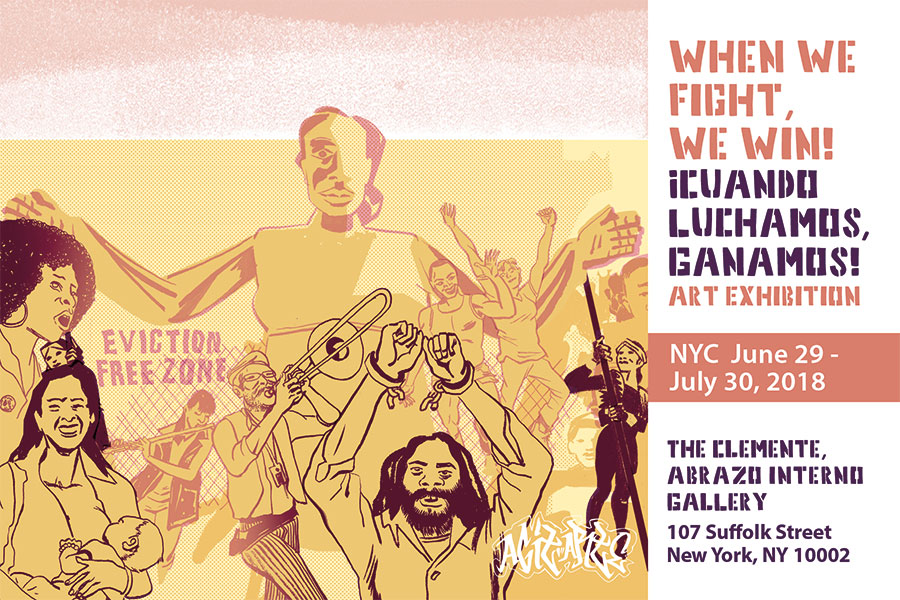 19 Jun

When We FIght, We Win! / ¡Cuando Luchamos, Ganamos! Art Exhibition at The Clemente
"Art is not a mirror held up to reality, but a hammer with which to shape it." – Bertolt Brecht
The When We Fight, We Win! / ¡Cuando Luchamos, Ganamos! exhibition features over 40 artists, cultural organizers and collectives whose work bolsters people's movements and builds solidarity across place, culture and struggle. Moving from the page to the gallery walls, the exhibition provides space to share and interact with movement art in tactile and visceral ways, breaking the barriers of two dimensional form, to invite performance, moving image, installation, artwork used in direct actions, and collective art making.
This exhibition is made possible with support from the Caroline and Sigmund Schott Fund and The Clemente's Open Call Program which is supported by the New York City Department of Cultural Affairs and the New York Council on the Arts.
ARTISTS:
AgitArte, Agustín Muñoz Ríos, Another Gulf Is Possible Collaborative, Antonia Darder, Bread and Puppet, Bria M. Royal, City Life/Vida Urbana, Crystal Clarity, CultureStrike, Dey Hernández, Emily Simons, Erik R. McGregor, Estefanía Rivera Cortés, Fernando Lopez, For the People Artists Collective, Gabriela Álvarez, Jackie Fawn, Javier Maldonado O'Farill, Jayeesha Dutta, Jesús Iñiguez, Jornada: Se acabaron las Promesas, José Jorge Díaz, José 'Primo' Hernández, Julio Salgado, Kevin "Rashid" Johnson, Micah Bazant, Mónica Trinidad, Molly Crabapple, Mumia Abu Jamal, Osvaldo Budet Meléndez, Papel Machete, Rachel Schragis, Radical Arts & Healing Collective, Remy, Rude Mechanical Orchestra, Southerners On New Ground, Sugeily Rodriguez Lebron, Sylvia Hernandez, Tina Orlandini, The Indian Problem, and more!
OPENING RECEPTION: JUNE 29TH, 7-10PM
Join us June 29th at The Clemente's Abrazo Interno Gallery – 170 Suffolk Street – for performances, live art-making, food, drinks and more! Performances include the Solidaridad y Sobrevivencia para nuestra Liberación Cantastoria by Papel Machete, the inaugural presentation of End the Debt! Decolonize! Liberate! Scroll, and more!