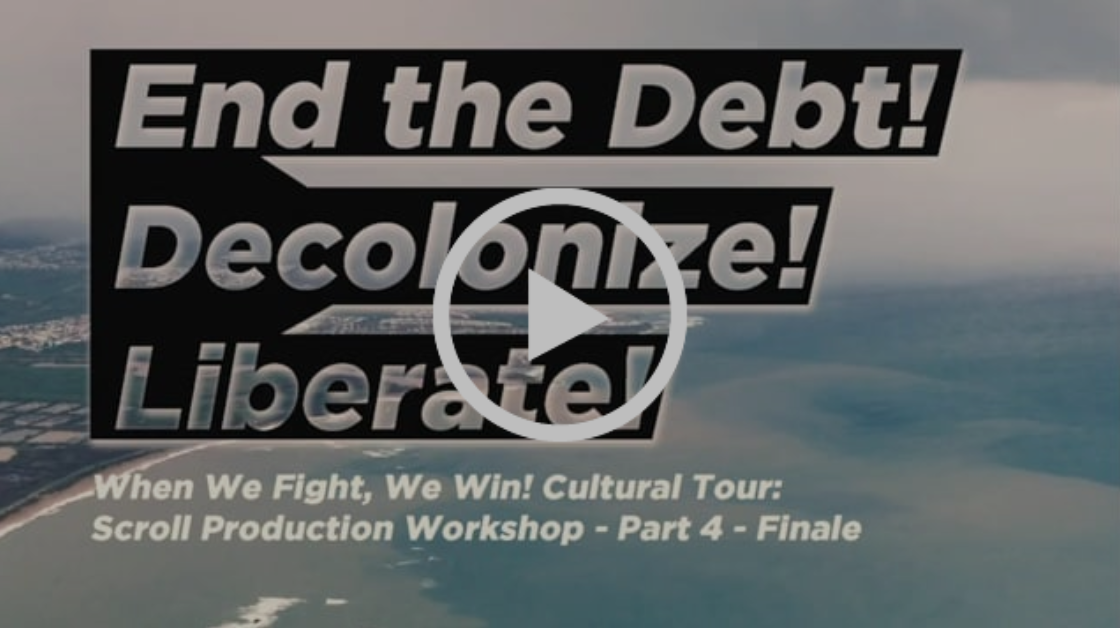 03 Jun

Final Scroll Project video

Last week, in our e-blast and at the opening of the Pasado y Presente: Art After the Young Lords exhibition at the Loisaida Center, we debuted the fourth and final video of the End the Debt! Decolonize! Liberate Puerto Rico! Scroll project. Videography and editing by Osvaldo Budet Meléndez. Scroll project collaborators include Crystal Clarity, Estefanía Rivera Cortés, Emily Simons, and Rachel Schragis. Watch all four videos of the making and first public performance of the scroll here.

Pasado y Presente: Art After the Young Lords commemorates the 50th anniversary of the founding of the Young Lords Organization in New York. This two-part exhibition opened on May 2nd at the Nathan Cummings Foundation, and will also have a presence at the Loisaida Center, opening on Friday, May 31, featuring artwork by AgitArte, Coronado Print Studio, Scherezade García, and Valor y Cambio that explores migration, movement, intra-diasporic Caribbean identity in NYC, alternative economies, story-telling, and decolonial narratives.

The exhibition will be on view at Loisaida Center and the Nathan Cummings Foundation offices through October 25, 2019.